What is Nose Work?
K9 Nose Work is a sport that uses your dog's natural instincts of hunting to train your dog to identify and locate food/toy/odor.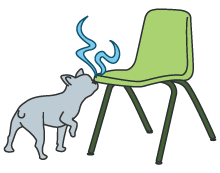 It is a sanctioned sport by the National Association of Canine Scent Work (NACSW). Our trainers and the founders from NACSW are from bomb and narcotic backgrounds. This sport uses a detection style training to motivate your dog to search.
Whole Dog Journal published an article on nose work because of its growing popularity.
If your dog enjoys smelling things they can have fun doing it as a sport. Dogs of all shapes and sizes can participate. It mentally challenges your dog and they are more focused and balanced. This is a fun sport for you and your dog.
We begin training the dogs to search for food or a toy, depending on your dog's desire. We use boxes to begin with and then move to various containers as the dogs realize the search is not about the environment but the food or toy.
While your dog is learning to search, you learn the body behavior of your dog. We show you how to read your dog and learn to trust their behavior. Safety is always important in training so we show you how to be safe while searching.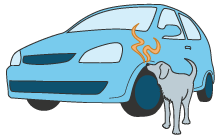 Once the dogs are confident with the searching we move to exterior building locations and vehicles, then transition them to odors. Three distinct odors/oils are used in the sport: Birch, Anise and Cloves, all of which are not easily found naturally or in the house.
As we practice with the dogs the search will become more challenging. If you choose you can continue on to competition by passing an Odor Recognition Test (ORT).
Read more about Trialing.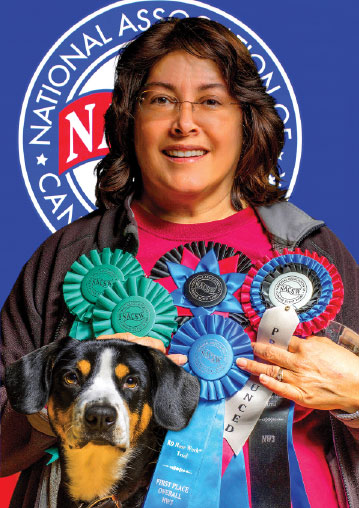 Josette Kimes is a NACSW Certified Nose Work Instructor. She has been training with the National Association of Canine Scent Work since 2009. In December 2014, she and Elsa completed the highest level of NW Trials earning their NW3 Elite status. They earned 3 separate NW3 level titles, thus reaching an NACSW Elite Status. Which qualified them to compete in the 2015 National Invitational where they competed against 44 other teams, in Colorado. As one of the 15 finalist they earned 5th place overall and two second place search awards. Also one of her students competed in the Invitational and earned 8th place overall, and a second place search award, Josette is proud of her placement.
Josette owns and breeds her Entlebuchers and she competes with all her dogs. Josette has owned dogs all her life from rescues to purebreds and enjoys training and watching dogs learn. In addition to Nose Work she instructs private obedience and off leash trail training. Josette is a member of the NACSW, ADPT and a CGC Evaluator. She is very active in the National Entlebucher Mountain Dog Association (NEMDA), as Event Co-Chair, and Breed Committee member.
For general information contact Josette Kimes at:
info@noseworkfun.com
408.839.0332